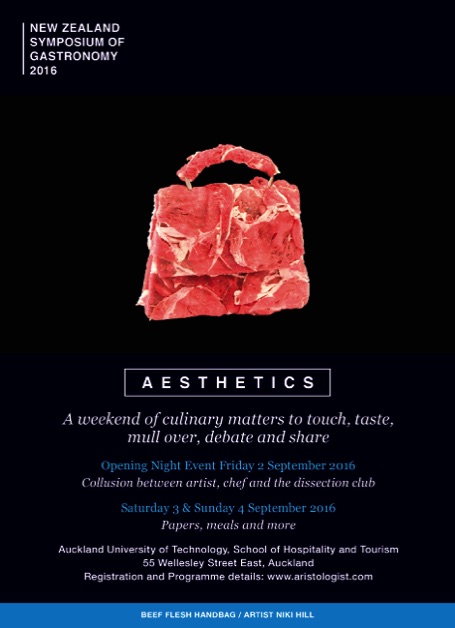 Convenor: Jennifer Yee Collinson
Program
FRIDAY - 2nd September
6.00-8.30pm The Dissection Club: Symposium Opening Night at the PAH HOMESTEAD, 72 Hillsborough Rd.
Collusion between artist, chef and the dissection club.
Beef, flesh handbag artist Niki Hill, Judge Bao & the Dissectionist.
Drinks with Grazing Supper by Judge Bao.
SATURDAY - 3rd September
Registration from 8.15.
9.00am Symposium welcome
9.15 Christine Hall: AUT Master of Gastronomy.
9.30 Robert Richardson: Bring a plate? Social Food Gatherings in New Zealand.
10.00 Tracy Berno: The 100% Pure" advantage: Putting the Culture into New Zealand agriculture.
10.30 Morning Tea & Trading Table*
&
Vessels by Potter Richard Naylor
11.00 Angela Clifford: ConversatioNZ: Making New Zealand Food Famous.
11.30 Dave Veart: Exceedingly Pretty Chickens - Winifred Campbell part 1 -
John Logan Campbell's daughter's letters.
12.00 Lorraine Wilson: Winifred's War - Winifred Campbell part 2.
12.30 Lunch
1.45 Nat Cheshire & Daijing Tai: Common Ground, Uncommon Space.
2.30 Giapo : Giapo Haute Ice Cream & Demonstration.
3.15 Afternoon Tea
3.30 Shona Dey: Food, Aesthetics and Photography.
4.00 John Webster: Rust on Food - Yvonne Rust - a cook and potter
at the Christchurch Centre for Design.
4.30 Aaron McLean: Stonesoup: a conversation.
5.00 Giapo: Queen St, Civic Building.
SUNDAY - 4th September
9.30 Viv Teo: Breakbread & Short film.
10.00 Niki Hill: Aesthetics in Contemporary Art and the raw food product of artist Niki Hill.
10.30 Morning Tea & Trading Table*
11.00 Saman Hassibi & Amir Sayadabdi: Persian Fruit Bowl: The aesthetics and
symbolic meanings in Iranian food culture.
11.30 Suzanne Bliss: Tart Lessons.
12.00 Alison McKee: The Art of Carving: A merry thought and a pack of playing cards.
12.30: Picnic Lunch at Albert Park.
Library Visit: Sir George Grey Special Collections Exhibition: House & Home - domestic Life in New Zealand.
Level 2, Auckland Central City Library, 44-46 Lorne Street.
2.00 Alexa Johnston: The Edmonds Cookbook Project.
2.30 Andre Taber: Baking Powder Label designs as worthy artifacts.
2.45 Peter Randrup: Insects for Dinner
3.15: Afternoon Tea.
3.45 Jennifer Yee Collinson: Porridge, Congee & Weeds.
4.15 Duncan Galletly: The Illustration of Cookery Books.
4.45 Christine Hall: Dining in the Dark.
5.15 Symposium 2017.
7.00 Symposium Dinner: Jeeb at Gemmayze St. St. Kevins Arcade,
183 Karagahape Rd.